Led by a storyteller and discussion leader, underserved children and their families meet in public libraries, elementary schools and other community venues to read and discuss award-winning children's books. Discussion encourages critical and analytical thinking, helps develop connections between storybooks and real-life situations, and, in the bilingual program, encourages Spanish-speaking parents to speak and read English.  Pre-school activities are offered separately for younger siblings.
Five different Prime Time formats are available, each specifically designed for:
African-American families
Native American families
Bilingual for Spanish-speaking families
English-only for a diverse, multicultural group of families
Preschoolers and their families
Watch a 2-1/2 minute video about our Prime Time program below!
Since 2002, this award-winning program has encouraged families to consider reading and education as a fun and important part of their lives. More than 16,000 Nebraskans have participated in one or more of the 297 bilingual and English-only Prime Time series held throughout the state in 17 public libraries, 19 elementary schools, 7 community centers, one bookstore, and one Head Start in 18 communities statewide where student scores in reading do not meet Nebraska state standards.
Prime Time Works
A 10-year impact study, published in 2010 by the Louisiana Endowment for the Humanities, found that students who participated in Prime Time Family Reading Time during their early elementary years outperformed their peers on grade level content in standardized exams.  Prime Time students scored higher in language arts and reading, mathematics, science, life science and other subjects.
In a survey of Nebraska families who participated in Prime Time:
87% said they spend more time reading now as a family
89% said the program improved the way they read and discuss books together
98% showed interest in participating again in Prime Time or similar family reading and educational programs
Prime Time Family Reading Time was created in 1991 by the Louisiana Endowment for the Humanities (www.leh.org). Thanks to partial funding from the National Endowment for the Humanities (NEH), Prime Time has been offered in 40 states.
Resources
---
Prime Time Family Reading Time is made possible by these statewide sponsors and local community donorss:
Statewide
Fremont
Lexington
Lincoln
Norfolk
Omaha
---
2020 Prime Time Communities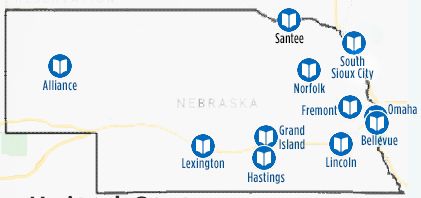 Prime Time Family Reading Time Events
HN thanks Nebraska Center for the Book for recognizing Prime Time with the 2018 Jane Geske Award.