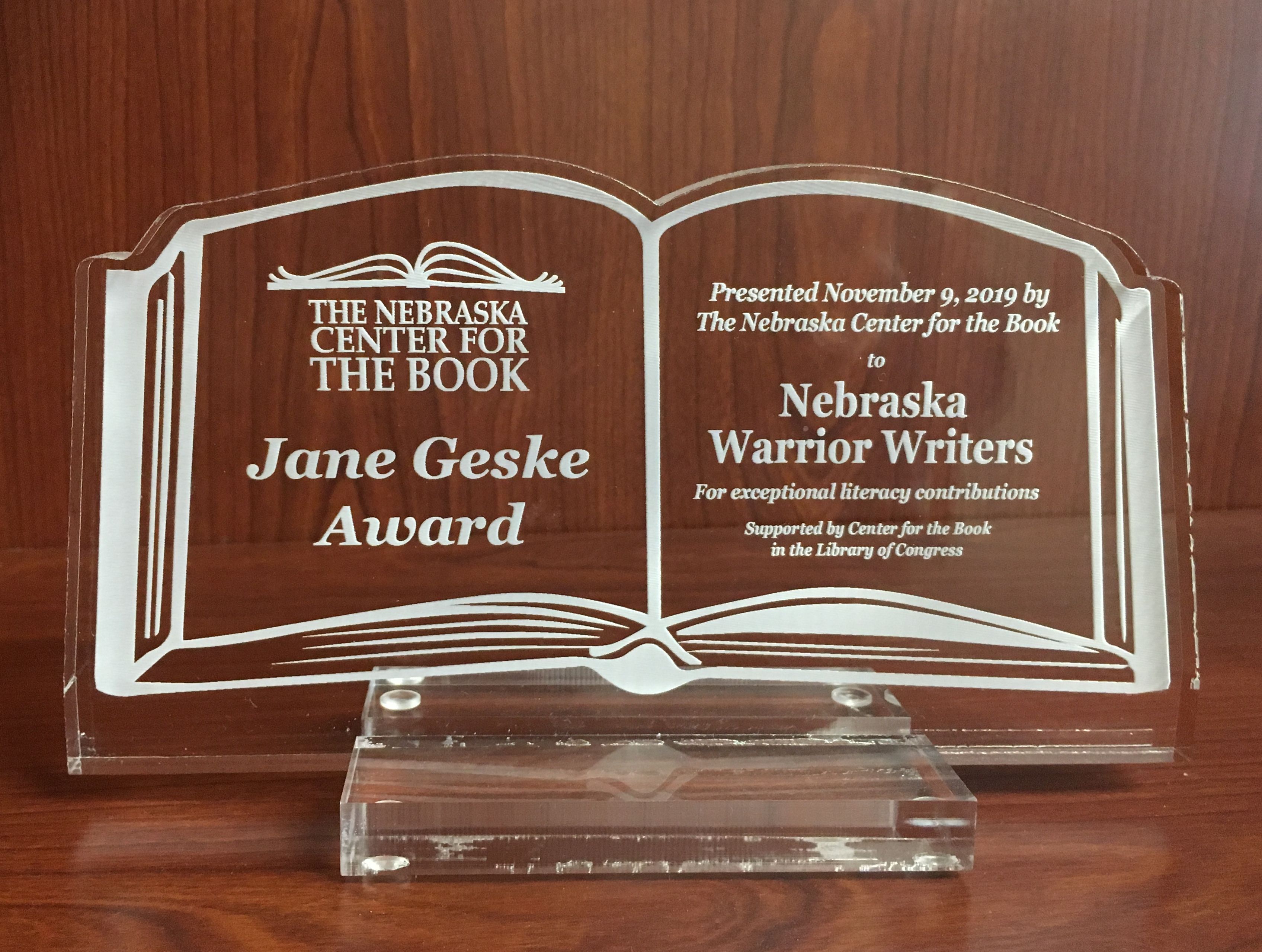 Acceptance Speech: Jane Geske Literary Award
Tom Seib, facilitator for the Lincoln Nebraska Warrior Writers group, gave this speech in acceptance of the Jane Geske Literary Award on November 9, 2019.
On behalf of my co-facilitators, Sara Hollcroft, Jen Stastny and Cindy Cronn, it is an honor and a privilege to accept the Jane Geske Award for the Nebraska Warrior Writer's Program.
When we found out that Warrior Writers was going to be honored today with this award, I did some research on Jane Geske and what she stood for. I have a strong feeling that Warrior Writers is a program that she would have been very supportive of and would be proud to have her name associated with. Jane was a strong supporter of literature and writing of all kinds and she promoted and spent her entire life immersed in books and writing. I can only imagine that she would have loved to attend one of our Warrior Writer sessions.
Nebraska Warrior Writers is a program which offers free writing workshops for active duty military and veterans. The program had
its roots in the dream of Dr. Robert Brooke at the Nebraska Writing Project some 5 years ago. That dream was to provide writing workshops for our military veterans and owes much of its success to him and Beverly Hoistad who was the first teacher/facilitator when the program was in its infancy. They both really understood what was needed to implement it and make it work.
These writer groups meet bi-weekly with facilitators from the Nebraska Writing Project, who along with guest authors and presenters lead writing exercises and share their expertise with the veterans. The hope is that these writers will be able to develop their work through free-writing, peer work-shopping, revision and sharing their writing with others in the group. We provide a supportive environment so that they can strengthen their work and maybe even publish it at some point if that is their wish, which several of them have already have done. We also hope to provide a constructively critical place for them to get to know and trust each other, and consequently be able to share their work in a safe community and finally to provide feedback to help them improve their writing skills. As one of our veterans, Sharon Robino-West said in an interview with the National Writing Project earlier this fall, "In the military we're taught to hold things in and not talk about ourselves, but sometimes you need to heal. These workshops are therapeutic and the writing instruction is top-notch." I believe this has become a key component of this entire program.
We would not be able to continue the great work of Warrior Writers without the help of Humanities Nebraska which also has
been with us since the beginning!! Chris Sommerich, Erika Hamilton and Sherilynne Hansen at Humanities have been unbelievably supportive of what we are doing and have continually found the funding and the support our work needs to continue and have promoted this great work all over the state.
I would be remiss if I did not also thank the Lincoln Veterans Administration for everything they have done to welcome us and aid us in any way necessary as this program has grown and developed. Their cooperation in so many ways has been phenomenal. We also owe a debt of gratitude to the Omaha Public libraries for allowing us to utilize their facilities for our workshops in Omaha.
And most important of all, we want to thank our Warrior Writers themselves who have made this program so wonderful and successful. They are what this is really all about!! Since it's inception in 2014, well over fifty veterans have been involved in the workshops, some for just a few month, many for several years, and a few have been with us since the beginning. Many of them are here with us today, and I know I speak for Sara, Jen and Cindy when I say that these are very special people who have become like family to all of us who have been involved in this program. They are truly what makes this so special and they are what makes our efforts worth the time we all invest in it.
I would like to close these remarks today by reading a poem written by one of our Vietnam vets, Andy Gueck which really says it all.
Read "The Healing Wall" by Andy Gueck.
Chapter 2, "Recovering a Sense of Identity" of Julia Cameron's The Artist's Way reminds me of John Donne's poem, "Meditation XVII," also called "No Man Is an Island." This is the chapter assigned for the 3rd week's session of the Vet's writing to be held April 7th at the Vets' Hospital auditorium in Lincoln, Nebraska. Donne wrote,
"No man is an island,
Entire of itself,
Every man is a piece of the continent,
A part of the main.
If a clod be washed away by the sea
Europe is the less.
As well as if a promontory were.
As well as if a manor of thy friend's
Or of thine own were:
Any man's death diminishes me,
Because I am involved in mankind,
And therefore never send to know for whom the bell tolls;
It tolls for thee."
The poem's intent is to express that we are all interconnected and whatever happens to another individual, also affects the rest of us. However, chapter 2's objective is for the individual writer to find or recover his or her own sense of identity in order to find creativity. Through our search of creativity, we often find ourselves hitting the proverbial brick wall with our own self-doubts if we are good enough to call ourselves writers, or believing our friends or families, our "Poisonous Playmates" (pg. 42) when they attempt to capsize our smooth sailing boat of writing. We become blocked, or we find something else to do with the time we have set aside for our writing because we no longer believe we are good enough as writers or our words are not worthy enough to be set down, let alone be read by another. Frustration, uneasiness, loss sets in. Yet, our words and the stories that contain these words if not shared, are like clods being washed away by the storm of those fears. The lack (death) of those stories diminishes us as its words could comfort us or call us to action for a better life.
If it isn't this, then it can be our sense of fear, not of failure, but of success and how it will change our life, or our relationship with our family or friends. In this scenario, we are embedded in a pool of concrete, comfortable that nothing is going to change in the pool.
Cameron uses the term "crazymakers" for those of us who avoid being creative. We create thoughts and actions to undermine our success as writers. While I am lucky and do not have others in my life who are crazymakers keeping me from writing, I can be my own crazymaker. It often is essential to have my desk clean before I feel I can sit at my computer and create. Also, it is the fear I am not good enough, so why spend my time writing. Yet, I feel the need to write. Shakti Gawain (pg. 47) is quoted, "… we need to be willing to let our intuition guide us, and then be willing to follow that guidance directly and fearlessly." Cameron states "Remember that it is far harder and more painful to be a blocked artist than it is to do the work" (pg. 55).
The bell is tolling. Pick up the pencil.
Dear Writing friends: Although it seems like it will never get here, spring is finally drawing near and with it comes a renewed sense of hope and a strong desire to express our feelings of excitement that the long dark winter season is finally coming to an end. We have had a great start to the spring session of the Warrior Writers already and are looking forward to seeing all of you again this Saturday. We are excited to welcome back Maggie Cristensen for this week's session. Maggie is the Writing Program Administrator at UNO and the Director of the Oxbow Writing Project of Nebraska. Her topic for this week is perfect for the blooming of spring that is before us. "Recovering a Sense of Identity" , with a special emphasis on paying attention to priorities in our lives. Please read Chapter 2 of "The Artist's Way" which deals with these issues and think and write about how you will prepare for spring!!
I am a writer. I write. From the time I was 4 years old, I would play school with my
siblings. Sometimes I would be the teacher; other times, I would be a student. I would
"write" page after page in my Big Red tablet. I wanted to be a real student in a real
classroom.
"My name is Hilda Rechless; you are to call me Mrs. Rechless." I was in 4th grade.
"Today you will write an essay about your summer." I was given that same assignment
from her the previous year as she taught both 3rd and 4th graders in our small school. A
year earlier, I had not proven myself as a writer. Now, I knew what to say and how to
write it especially since this summer I had stayed with my grandparents in Wymore.
After all, they lived three blocks from the city pool, and the city pool was livelier than my
regular summer routine of pulling weeds from the strawberry patch. As quickly as the
weeds died after I pulled them, so did the words I wrote in last year's essay. I wanted to
show my teacher, my role model, that I had been working on my writing skills over the
summer.
I am a writer. I write. In the early mornings when sleep eludes my mind and body, I
sometimes think back on that 4th grade summer writing assignment. I couldn't wait to
put in poetic prose the wonder of that summer. Mom had purchased a swimsuit
covered in yellow circles and red flowers just for me. It was the first one I had ever
owned, and Mom knew I would remember that first summer alone staying with
Grandpa and Grandma. I wanted Mrs. Rechless to feel the awe and excitement that I
had felt when the cooling water coursed its way between my toes as I swayed my feet
back and forth, circling left to right, right to left, over and over, back and forth in the
pool. I wanted her to read about my fascination on how the water beaded on my feet
and ankles and sparkled in the sunlight. She needed to know how much nicer it was in
that pretty blue water and not the muddy water of our creek behind our house. I
wanted her to know what the water looked like when the little boy to my left peed in
the pool and the strong yellow of his pee quickly swirled around him ever so gracefully
and then disappeared around the other boys innocently playing tag with him.
I am a writer. I wrote. On that early September Thursday of my 4th grade year, I poured
out my love for my grandparents for letting me stay with them, my mom for buying me
the most beautiful swimsuit that was ever made, my absolutely wonderful summer,
cooling off in the prettiest water God had given His children. I was so happy that Mrs.
Rechless asked me about my summer and that I got to share my story with her. I knew
that she would be proud of me since I was her best student in English the year before.
Hadn't I won every diagraming sentences contest she gave? Hadn't I been her best
speller? This year I would be the best writer she had ever had since I had actually had a
fantastic summer to write about.
I am a writer. I wrote. I went beyond the 100 words she asked her class to write
because I was on a mission to let her know every last detail. Details are important, you
know. I remembered Mrs. Rechless telling us last year but I did not have the details to
make my writing stand out; and unfortunately, had not developed an imagination to
improvise.
But I had worked on details that summer. I took notice of using all my scenes whenever
I entered a room or was outside. I mentally had practiced writing phrases to describe
my thoughts over the summer. So, now faced with the same assignment as last year, I
wrote and wrote and wrote. I was the last one to hand my essay in. I wanted it to be on
top, so she would read it first. As she clipped the essays together, she thanked us for
sharing our summers with her and said she was looking forward to reading them that
night. I nodded; she nodded back at me.
I am a writer. I write. I didn't sleep that night, knowing that my teacher was smiling as
she read our papers. I couldn't wait until Mom called me to breakfast, but then I
couldn't eat. I willed the big yellow school bus to come early for my brother and sisters
and me. I could already see that large red A on my summer essay, but I also needed it in
my hands and for my teacher to publicly praise my writing. I purposely wore my pink
striped dress that day since its flared skirt would look nicely as I curtsied in thanks for
Mrs. Rechless declaring I had written the best paper.
I am a writer. I wrote. I got my paper back.
I am a writer. I wrote and I write. Today, while reading my words, and in the words of
Russian author and critical reviewer Vladimir Nabokov, would Hilda Rechless notice and
fondle the details of my summer[sic]? Would she read my essay with "impersonal
imagination and artistic delight"? (Nabokov) Would she have chills up her spine to
tingle her imagination? Did I light the fires of delight, wonder, and remembrance
through my story, my lesson?
Today I write, and as I put pen to paper or fingers to the keyboard, my writing muse
shows me Mrs. Hilda Rechless standing in front of me in her Thursday's blue A- line
dress with its second button from the top hanging precariously by a thread or two. As I
looked forward to words of encouragement about my writing, I am still confused how
that button can still be functional all these years. The words that I have been waiting
years to read will have to wait again. I still see her small, red cursive words on top of my
paper:
"You need to indent your paragraphs."
The Grand Island Warrior Writers are hard at work this spring! We have six participants from central and north central Nebraska who are writing family stories, science fiction novels, stories of military and war experience, and poems. Throughout the workshop, we are studying various elements of writing, sharing our writing in small groups, and reading and discussing Anne Lamott's book Bird by Bird: Some Instructions on Writing and Life. If you are interested in learning more about the GI Warrior Writers, please contact Danielle Helzer at helzerdm@gmail.com or 402-616-4304.
Publishing opp for military writers
Blue Nostalgia is the signature publication of the Veterans' PTSD project. Blue Nostalgia gives us a medium to connect to our brothers and sisters, while allowing the civilian community a glimpse into our world. There are many of us who have experienced the trauma that comes with armed conflict, but there are many more who have not, and never will. We veterans hold in our minds and bodies the history of our wars, and if the non-veteran community is to grasp who we are, what we have experienced, and what we are capable of as productive citizens, we must tell our stories. Learn more here: http://militaryexperience.org/blue-nostalgia-a-journal-of-post-traumatic-growth-vol-1/.
The Veterans and their families, along with their writing facilitators and Humanities Nebraska want to welcome you to their blog. You will discover a wide array of genres and styles of writing. Some share their personal accounts as a way of healing, but all of them write because they want their words to be heard. Enjoy and let us hear back from you.