#RuralCrossroads #NebraskaCrossroads
---
Crossroads: Change in Rural America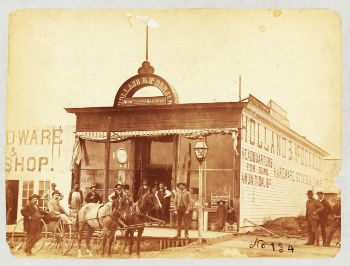 Coming to Nebraska in 2021! 
Applications due October 15, 2019, to Humanities Nebraska 
In 1900, about 40% of Americans lived in rural areas. By 2010, less than 18% of the U.S. population lived in rural areas. In just over a century, massive economic and social changes moved millions of Americans into urban areas. Yet, only 10% of the U.S. landmass is considered urban. 
Many Americans consider rural communities to be endangered and hanging on by a thread—suffering from brain drain, inadequate schools, and a barren, overused landscape. Why should revitalizing the rural places left behind matter to those who remain? Those who left? And those who will come in the future? Because there is much more to the story of rural America. 
Crossroads: Change in Rural America offers small towns a chance to look at their own paths to highlight the changes that affected their fortunes over the past century. The exhibition will prompt discussions about what happened when America's rural population became a minority of the country's population and the ripple effects that occurred. 
Despite the massive economic and demographic impacts brought on by these changes, America's small towns continue to creatively focus on new opportunities for growth and development. Economic innovation and a focus on the cultural facets that make small towns unique, comfortable, and desirable have helped many communities create their own renaissance. The future is bright for much of rural America as small towns embrace the notion that their citizens and their cultural uniqueness are important assets. 
Museums, libraries and other community centers are eligible to apply. 
Selected sites will host the exhibit for about six weeks each between September 2021 and April 2022, with support and materials from Humanities Nebraska and the Smithsonian. Hosts will be asked to help promote the national exhibition, develop a companion local exhibit, and offer educational programming related to
the theme.
For more information, contact Mary Yager at (402) 474-2131 or mary@humanitiesnebraska.org.
Apply now to host Crossroads!
---
Crossroads Resources
Crossroads exhibit sites and events
Check back after January 1, 2020 for sites and dates!
Support for the Nebraska tour of WATER/WAYS is provided by:
Your name and/or business logo will be added here when you sponsor Crossroads!

Please call Heather Thomas at 402.474.2131 for more information