Titles That Celebrate Women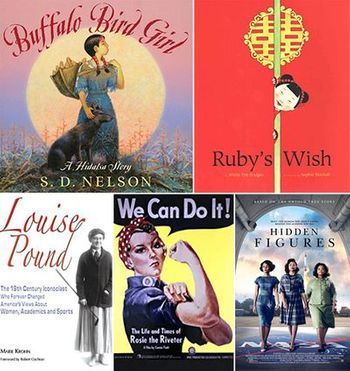 Here is a list of books, websites, documentaries, and feature film  to explore and discuss with your family and friends as we celebrate Women's History Month. Many of these books, documentaries and feature films are available in online formats, although some do require a nominal fee. Please let us know which items you are enjoying, either by email or on our Facebook page.
Books
Preschool/Kindergarten: 
Shaking Things Up: 14 Young Women Who Changed The World by Susan Hood
Dear Malala, We Stand with You by Rosemary McCarney
I am Amelia Earhart by Brad Meltzer
Buffalo Bird Girl: A Hidatsa Story by S.D. Nelson
I Could Do That!: Esther Morris Gets Women the Vote, by Linda Arms White

Young Elementary: 
She Persisted by Chelsea Clinton
Virgie Goes to School with Us Boys by Elizabeth Fitzgerald Howard
Brave Girl: Clara and the Shirtwaist Makers' Strike of 1909 by Michelle Markel
Who Was Sojourner Truth? by Yona Zeldis McDonough and Who HQ
Miss Moore Thought Otherwise: How Anne Carroll Moore Created Libraries for Children by Jan Pinborough

Upper Elementary: 
Ruby's Wish by Shirin Yim Bridges
Amina's Voice by Hena Kahn
Step Up To The Plate, Maria Singh by Uma Krishnaswami
Girls Think of Everything: Stories of Ingenious Inventions by Women by Catherine Thimmesh
Ada Bryon Lovelace and the Thinking Machine by Laurie Wallmark
Brown Girl Dreaming by Jacqueline WoodsonHigh School:
March Forward, Girl by Melba Patillo Beals
#Not Your Princess: Voices of Native American Women edited by Lisa Charleyboy and Mary Beth Leatherdale
A Hope More Powerful Than The Sea by Melissa Fleming
The Radical Element by Jessica Spotswood et. al.
Headstrong: 52 Women Who Changed Science-and the World by Rachel Swaby  

Adult:
No Horizon So Far by Ann Bancroft
My Own Words by Ruth Bader Ginsburg
Elizabeth Cady Stanton: An American Life by Lori D. Ginzberg
Eighty Days: Nellie Bly and Elizabeth Bisland's History-Making Race Around the World by Matthew Goodman
Louise Pound: The 19th Century Iconoclast Who Forever Changed America's Views About Women,
   Academics and Sports by Marie Krohn
West with the Night by Beryl Markham; Women of the Grange: Mutuality and Sisterhood in Rural
   America, 1866-1920 by Donald Marti
The Majesty of the Law by Sandra Day O'Connor
My Beloved World by Sonia Sotomayor
A Warrior of the People: How Susan La Flesche Overcame Racial and Gender Inequality to Become
   America's First Indian Doctor by Joe Starita
Victoria: A Life by A. N. Wilson
Websites
American Women: A Gateway to Library of Congress Resources for the Study of Women's History and Culture in the United States
Half the People: 1917-1996 (PBS)
Story Corp's Women's History Month page
Women and Social Movements in the United States, 1775-2000
Documentaries
Chisholm '72: Unbought & Unbossed (2004) 
Dolores (2017) Portrait of labor activist Dolores Huerta
The Unconquered: Helen Keller In Her Story (1954)
The Life and Times of Rosie the Riveter (1980)
MANKILLER (2018) The documentary film celebrating the life of Wilma Mankiller, the first woman to be elected Principal Chief of the Cherokee Nation.
Maya Angelou: And Still I Rise (2016)
#UNLADYLIKE2020 A series of short documentaries about American women who changed history, including Nebraskans Grace Abbott and Dr. Susan La Flesche Picotte. Watch them here or on Wednesday evenings on American Masters (local PBS stations). 
Feature Films
Please bear in mind that feature filmmakers use "poetic license" when bringing these stories to the big screen, so not all information will be historically accurate. 
Erin Brockovich (2000)
Hidden Figures (2016)
A League of Their Own (1992)
Norma Ray (1979) 
Queen of Katwe (2016)
Suffragette (2015)