Theatre and Concerts at Home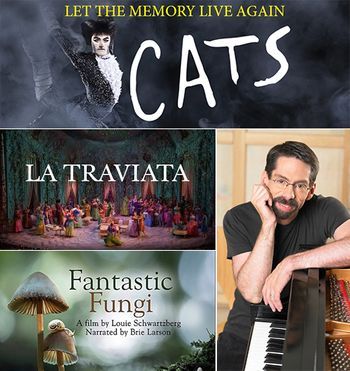 Here are ways to experience theatre and concerts at home. Be sure to discuss these with your family members and friends who are also viewing. How did the content make you feel? What was your favorite part? What did the performance say to you about humanity? 

If this is a first-time experience for you or a family member, your goal should be simply to relax and experience the production. There are no right or wrong ways to encounter a theatrical or musical performance. Remember to let us know which items you are enjoying, either by email or on our Facebook page.
Broadway Shows
Broadway HD is temporarily offering a 7-day free trial during the pandemic. You can stream entire Broadway productions such as "The King and I", "The Sound of Music" or "Cats." (Monthly subscription rate is $8.99).
The National Theatre will be streaming some of their past broadcasts for free on their YouTube channel every Thursday in April. Titles are: One Man, Two Guvnors (4.2), Jan Eyre (4.9), Treasure Island (4.16), and Twelfth Night (4.23). (Clips of each are already available on the National Theatre YouTube channel.)

You can also find some Broadway productions on YouTube, Netflix, and other home streaming services, if you are a subscriber. 
Concerts
The Metropolitan Opera is currently offering a different live stream every night. In the first week of this new online program, they showcased Verdi's La Traviata, Puccini's La Bohème, and Bizet's Carmen.
To go along with that, Opera Omaha is offering pre-show talks for each Met production live on their Facebook page! Opera Omaha is also publishing daily Creativity Prompts on their blog to help keep those mental synapses firing. 
Our friends at the Lied Center for Performing Arts in Lincoln are also offering streaming concerts. The first was Friday, March 27, which you can still view online. Learn more on their website. 

The Omaha Symphony is also providing free concerts online. More information about Symphony Anywhere is on their website. 
Jazz musician Fred Hersch is offering daily performances on his Facebook page. 
The "Live From Our Living Rooms" jazz festival/fundraiser will be held online April 1-7. 
Various musicians are also offering free concerts during the pandemic. The Vulture has all the details. 
Independent Films
Our friends at FilmStreams are offering some independent films to stream at home for a nominal cost. Information here.