Resources for Understanding the Racial Divide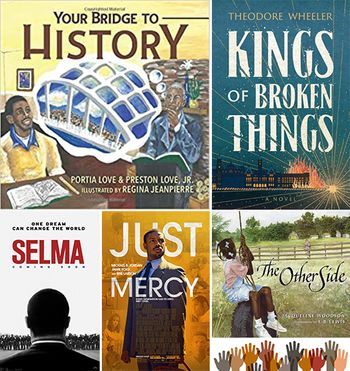 This is not a topic for one email, or one news cycle, or one in-person program (whenever we are able to meet in person). It needs to be an ongoing dialogue throughout our nation, state, and community. At Humanities Nebraska, we will do our part to see that this happens, according to our mission, vision and guiding principles.
If you wish to learn more, the books, films, and websites listed below contribute to this national dialogue by addressing racism and how we might better understand and overcome it. If you have other suggestions to add to the list, please let us know either by email or on our Facebook page.
Books
Adult
Between the World and Me by Ta-Nehisi Coates
Citizen: An American Lyric by Claudia Rankin
Economic Cataracts: A Chronicle of Efforts to Remove the Obstacles of Urban Community Engagement and Economic Inclusion by Preston Love, Jr
How To Be an Antiracist by Ibram X. Kendi
Kings of Broken Things by Theodore Wheeler
Racism Without Racists: Color-Blind Racism and the Persistence of Racial Inequality in America by Eduardo Bonilla-Silva
Tears We Cannot Stop by Michael Eric Dyson
The Autobiography of Malcolm X with Alex Haley
White Fragility: Why It's So Hard for White People to Talk about Racism by Robin DiAngelo
White Rage: The Unspoken Truth of Our Racial Divide by Carl Anderson
Why Are All the Black Kids Sitting Together in the Cafeteria and Other Conversations about Race by Beverly Daniel Tatum, PhD
Children

Can I Touch Your Hair? Poems of Race, Mistakes and Building Friendship by Irene Latham and Charles Waters (Ages 8-12)
Freedom Summer by Deborah Wiles (Ages 4-8)
Goin' Someplace Special by Patricia McKissack and Jerry Pinkney (Ages 4-8)
Josephine: The Dazzling Life of Josephine Baker by Patricia Hruby Powell (Ages 10-13)
Let's Talk About Race by Julius Lester (Ages 4-8)
The Other Side by Jacqueline Woodson (Ages 5-8)
Ron's Big Mission by Rose Blue and Corrine Naden (Ages 5-9)
Ruth and the Green Book by Calvin Alexander Ramsey (Ages 7-11)
Something Happened in Our Town: A Child's Story About Racial Injustice by Marianne Celano, Marietta Collins, and Ann Hazzard (Ages 4-8)
The Stone Thrower by Jael Ealey Richardson  (Ages 4-9)
We've Got a Job: the 1963 Birmingham Children's March by Cynthia Levinson (Ages 11+)
What's the Difference? Being Different is Amazing by Doyin Richards, Feiwel & Friends (Ages 2-10)
Your Bridge to History by Portia Love & Preston Love, Jr. (Ages 7-13)
Feature Films
Please bear in mind that feature filmmakers use "poetic license" when bringing these stories to the big screen, so not all information will be historically accurate. 
12 Years a Slave (2013) 
13th (2016) 
The Best of Enemies (2019)
Do The Right Thing (1989) 
Just Mercy (2019 - Available for free rental on YouTube for a limited time)
Hidden Figures (2016)
Pariah (2011)
Selma (2014) 
Websites
Anti-Racism for Kids 101: Starting to Talk About Race
Anti-racism Resources for White People
At the Rally, December 8 2014 a poem by Nebraska State Poet Matt Mason
The Death of George Floyd by Kevin Lindsey, CEO of Minnesota Humanities Center
Great Plains Black History Museum Omaha - One-hour virtual tours are available to organizations. To schedule a tour, email Eric Ewing, executive director. 
Know Your History: Understanding Racism in the U.S.
Race, Power and Policy: Dismantling Structural Racism (pdf)
Talking About Race Smithsonian
Truth and Reconciliation: Addressing Systemic Racism in the U.S.
Understanding Racism American Psychological Association
White Privilege: Unpacking the Invisible Knapsack by Peggy McIntosh (pdf)
Yard Boy a poem by Kwame Dawes