Art Museum Virtual Tours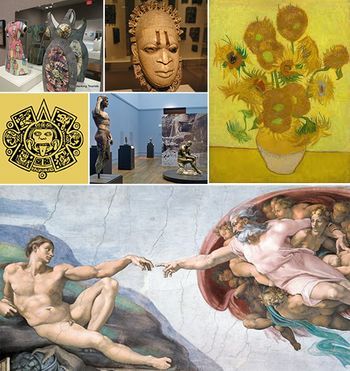 Here is a list of art museums a that are offering virtual tours. We hope you enjoy these opportunities to explore art from around the world.
Nebraska
El Museo Latino in Omaha has examples from current and previous collections on their website 
The International Quilt Museum in Lincoln has collection highlights online. 

Joslyn Art Museum in Omaha has a virtual tour in English or Spanish.
Museum of Nebraska Art in Kearney is showing works of art as part of an online fundraising campaign, though anybody can enjoy the views. If you have Facebook, they are also showing works of art on their page.
Sheldon Museum of Art in Lincoln also features their collections online.
Elsewhere in the Nation
The Denver Art Museum has stunning photography of their collection online.
J. Paul Getty Museum in Los Angeles also offers a virtual tour.
The Metropolitan Museum of Art in New York City has 360° tours.
The National Gallery of Art in Washington, D.C. has a couple of online exhibits.
Enjoy works at the San Francisco Modern Museum of Art online.
International
The Guggenheim in Bilbao, Spain, hosts an interactive online tour.
Paris may be out of reach right now, but the Musée d'Orsay with its collection of French Masters is accessible online. 
The National Gallery of Art in London has intriguing 360° room tours.
The National Museum of Modern and Contemporary Art in South Korea has an inspiring mix of works on its online tour. 
You might also enjoy a chance to view the Dutch Masters up close (every brush stroke!) via an interactive online tour of Rijksmuseum in Amsterdam. Or, opt for the Van Gogh Museum to see his masterpieces up close.
Vatican Museums virtual tour takes you to seven different spaces, including a 360° view of the famous ceiling of the Sistine Chapel.