Governor's Lecture raises more than $170k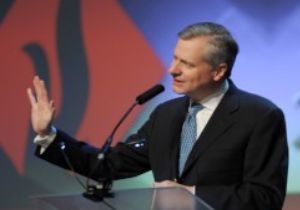 More than 1,500 humanities supporters, students and community members packed the Lied Center for Performing Arts on October 9 to hear from presidential biographer and Pulitzer Prize-winning author Jon Meacham.  
Meacham's talk, "Tumult, Tragedy and Hope: 1968 from a Half Century's Perspective," was the focus of the 23rd annual Governor's Lecture in the Humanities.  The lecture was presented by Humanities Nebraska with co-sponsors the E.N. Thompson Forum on World Issues and the University of Nebraska.
Preceding the lecture, a benefit dinner raised more than $170,000 for Humanities Nebraska's statewide programs.  Co-chaired by HN board members Shannon Harner and Matt Schaefer, the dinner set a record for Humanities Nebraska with more than 530 in attendance.  HN is grateful for the many sponsors and donors who regularly support this event, thank you!
Also at the dinner, Pamela Hilton Snow received the 2018 Sower Award in the Humanities. Snow is credited for her leadership, volunteering, philanthropy, and love for the arts and humanities. Her dedication, especially to the Grand Island area, has led to the creation and enhancement of many humanities institutions.
In his expansive lecture on 1968, Meacham drew parallels and contrasts to current day events and other moments in history.  As he outlined the historic events of 1968, he said "one of the points of history is to create a sense of proportion, a scale on which to judge the relative urgency of a given moment."  
Following the lecture, Meacham answered questions from the audience.  Earlier in the day on the UNL campus, the College of Journalism & Mass Communications hosted Meacham for a lively Q&A with students with an introduction of the speaker by Chancellor Ronnie Green.  
The evening ended with a number of humanities supporters enjoying Humanities After Hours at Kiechel Fine Art. The lecture was rebroadcast on NET radio in late November. A transcript will be posted on HumanitiesNebraska.org.