Nebraskans discuss democracy, trust, journalism
As one of 48 states participating in an initiative called "Democracy and the Informed Citizen," Humanities Nebraska (HN) presented a series of community conversations in October and November. HN partnered with the Pulitzer Prizes, UNL's College of Journalism and Mass Communications, Nebraska Educational Telecommunications, the Nebraska Press Association, and other individuals and entities across the state to put together panels of esteemed journalists in moderated discussions driven by audiences in Norfolk, Scottsbluff, Omaha, North Platte, Kearney and Lincoln.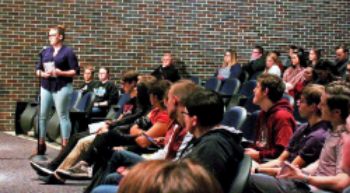 Are we finding the facts or seeking the sexy?
How do we know what news sources to trust, and how to avoid "click bait?"
When did the 'Us vs. Them' over-politicized news media start?
Why should we believe that anonymous sources are credible?
What do you tell young people thinking about going into journalism today?
Nebraskans across the state posed questions such as these to panels of journalists during a series of community conversation programs entitled, "An Issue of Trust: Democracy and the Future of Journalism." Audiences gathered to discuss challenging issues regarding the role of the news media in our democracy from local to national levels.
The goal of "An Issue of Trust" was to bring together community members of different perspectives to explore topics around journalism in our democracy and to hear how they inform themselves. 
According to a study by the Pew Research Center, the percentage of U.S. adults who have "some trust" in the information from national news organizations, distinguished between factual and opinion statements in the news, is an alarming 49 percent. By comparison, 21 percent have "a lot of trust" and 29 percent have
"not too much/none at all.'"
There were some similar conversation points throughout the program series, each of which was attended by adults of all ages and political viewpoints. While candid opinions were expressed and tough questions asked about topics such as media bias, the programs proved to be a model of civility that all communities
and states could emulate.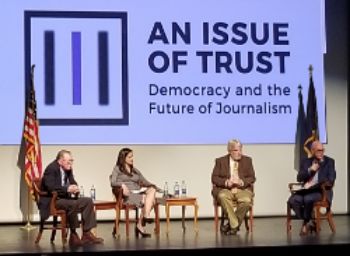 Nebraskans may be civil, but we are not shy. At no point during these programs was there a lull in questions and comments for the journalists. It never took long for the conversation between the panelists and the audience to dive right into the heart of the program title: an issue of trust.
A senior from Norfolk High School asked how she could know which news sources to trust and how to avoid "click bait" online. Clark Kaufmann of the Des Moines Register encouraged her to stick with traditional news outlets that have credibility; Jenna Johnson from the Washington Post urged the audience to watch for the citation of sources in articles they read. 
In Scottsbluff, questions were asked about media bias. Anna Staver from the Denver Post noted that we all have biases, including journalists, but the method of news reporting includes layers of editors who ensure that biases don't bleed into news articles.
A participant in Omaha asked Washington Post reporter David Fahrenthold how it felt to be labeled "an enemy of the people" by President Trump. 
His response was that if we can avoid thinking of this as being "at war," whatever our politics, we also avoid being set up for failure in overcoming the current polarized situation. Victoria DeFrancesco Soto from the University of Texas observed that one solution to overcoming acrimony is to become more comfortable with having uncomfortable conversations with people we don't necessarily agree with. 
In North Platte, participants discussed young people going into journalism. Sarah McCammon of NPR said she advises young people interested in a journalism career to develop all of the skills and experiences they can. Matthew Hansen of the Omaha World-Herald added that he urges young journalists to think of themselves as entrepreneurs.
Kearney's audience touched on the tension between print and electronic journalism, and how the news media has responded to that divide. Matt Waite of the College of Journalism and Mass Communications at UNL explained how his work creating the PolitiFact fact-checking website was grounded in the belief that people wanted to know how to identify lies, but he found that is not the case. Rather, many people choose to believe whatever confirms the beliefs they already hold, and the facts often don't really matter. 
In each community, panelists conveyed worry about economic and political challenges the news media currently face, expressing hope the industry will adapt. The audiences voiced concern about the status of local news sources, frustration at the national picture, and apparent satisfaction in gathering with other people in the community to explore these issues together. 
Please visit our "Issue of Trust" web page for more information about the "An Issue of Trust" program series, including media literacy resources and future viewing opportunities of video clips of these programs.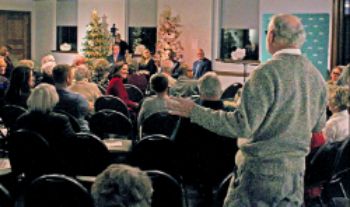 The conversation doesn't stop here. As citizens of our American democracy, we all have a role to play in being informed and engaged. Please continue the conversation with us and with others around you.
"An Issue of Trust" was made possible by funding from Andrew W. Mellon Foundation and administered by the Federation of State Humanities Councils. Additional funding was provided by the James and Rhonda Seacrest Foundation and the Johnny Carson Fund at the Nebraska Cultural Endowment. HN also extends thanks to the numerous statewide and local partners for their contributions.