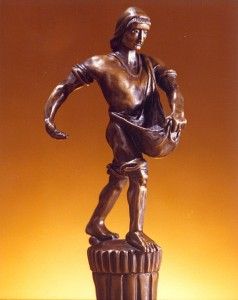 Humanities Nebraska is seeking nominations for the 2017 Sower Award in the Humanities, which will recognize an individual who has made "a significant contribution to public
understanding of the humanities in Nebraska."
The Sower Award will be presented in Omaha on Tuesday, October 3, just prior to the free public Governor's Lecture in the Humanities at the Holland Performing Arts Center.
This year's lecture will be delivered by Pulitzer Prize-winning author T.J. Stiles. In honor of Nebraska's Sesquicentennial, Stiles will draw on his recent research to explore geographical and other factors that made Nebraska a battleground in a series of conflicts that shaped national history. The lecture is a Nebraska 150 official event. Creighton
University, Union Pacific, and the University of Nebraska are presenting sponsors.
Anyone may nominate an individual for the Sower Award. Nominations must be postmarked no later than June 16. The nomination form can be downloaded from the Humanities Nebraska website: humanitiesnebraska.org/program/governors-lecture/. For more information or to receive a nomination form, call (402) 474-2131 or send an e-mail message to barbara@humanitiesnebraska.org.
A nominee's contribution to the public understanding of the humanities may be made through any commitment of time, expertise, or resources. The selection committee will consider how nominees have helped enrich the lives of Nebraskans through the humanities: history, literature, culture, philosophy, and all the ways we explore what it means to be human.
Previous awards have recognized many different kinds of contributions, including the work of humanities faculty who have taken the humanities to the public beyond the classroom, volunteers who have enhanced the cultural life of Nebraska, journalists and filmmakers who have brought the humanities to bear on important public issues, and philanthropists who have contributed to the cultural vitality of the state.
Omaha humanitarian Marian Andersen received the 2016 Sower Award. A full list of past Sower Award honorees is available online and on the nomination form. Sponsorships for the lecture and the benefit dinner that precedes it are available. Call 402.474.2131 for more information.