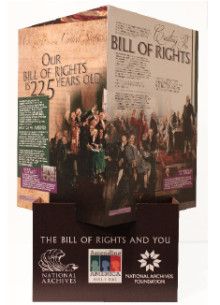 Spotlighting one of the most remarkable periods in American history, "The Bill of Rights and You" is a national initiative celebrating the 225th anniversary of the Bill of Rights.
The National Archives, in collaboration with the Federation of State Humanities Councils, made copies of this exhibit free of charge to libraries, museums and schools throughout the nation. A total of 186 sites responded to Humanities Nebraska's invitation to receive a copy of the exhibit, a number higher than any other state.
A full list of Nebraska's host sites follows.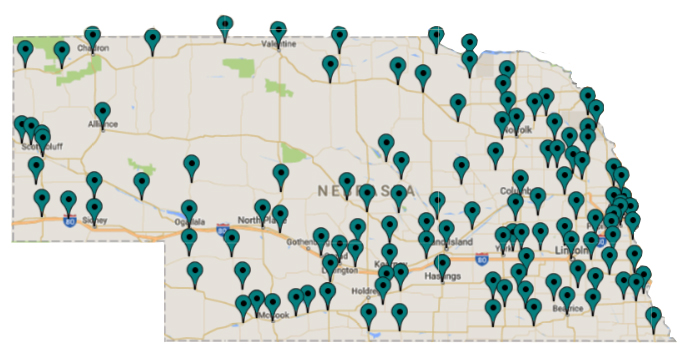 Auburn: Auburn Middle/High School*
Ainsworth: Ainsworth Public Library
Alliance: Alliance Public Library, Alliance High School*
Alma: Hoesch Memorial Public Library
Ansley: Ansley Public School*
Arapahoe: Arapahoe Public Library, Arapahoe High School*
Arthur: Arthur County High School*
Ashland: Ashland Public Library, Ashland-Greenwood Elementary School*
Atkinson: Atkinson Public Library
Axtell: Axtell Community School*
Bartley: Southwest High School*
Battle Creek: Lied Battle Creek Public Library
Beatrice: Beatrice Public Library, Educational Service Unit #5*
Bellevue: Bellevue Public Library, Sarpy County Museum, Bellevue West High School*, Logan Fontenelle Middle School*
Blair: Blair Public Library
Boys Town: Boys Town High School*
Broken Bow: Broken Bow Library
Bruning: Bruning-Davenport Public School*
Burwell: Burwell Junior-Senior High School*
Cairo: Centura Public School*
Cambridge: Cambridge High School
Cedar Rapids: Riverside Public School
Central City: Central City Public Library, Nebraska Christian School*
Chadron: Chadron High School*, Chadron Middle School*
Clearwater: Clearwater-Orchard Public School*
Cody: Cody-Kilgore School*
Columbus: Columbus Public Library, Columbus High School*
Cozad: Wilson Public Library, Cozad Historical Society
Crawford: Crawford High School*
Culbertson: Culbertson Public Library, Hitchcock County Elementary School*
Dalton: Leyton Public School*
David City: Hruska Memorial Public Library*
Daykin: Meridian Public School*
Deshler: Deshler Public School*
DeWitt: Tri County Public School*
Dodge: John Rogers Memorial Library
Eagle: Eagle Elementary School*
Elwood: Elwood High School*
Fairbury: Fairbury Public Library
Falls City: Falls City Library & Arts Center, Falls City High School*, Falls City Middle School*
Firth: Norris Intermediate School*
Fort Calhoun: Fort Calhoun Junior-Senior High School*
Franklin: Franklin Public Library
Friend: Friend Public School*
Gering: Summit Christian College
Gordon: Gordon City Library, Gordon Elementary School*
Grand Island: Grand Island Public Library, Central Community College
Grant: Perkins County Area Arts Council
Harrisburg: Banner County School*
Harrison: Sioux County High School*
Hastings: Hastings Library, Hastings Senior High School*, Alcott Elementary School. Hawthorne Elementary School*, Lincoln Elementary School*, Longfellow Elementary School*, Raymond A. Watson Elementary School*
Hayes Center: Hayes Center High School*
Hooper: Logan View Junior-Senior High School*
Howells: Howells-Dodge Consolidated School*
Imperial: Lied Imperial Public Library, Chase County High School*
Johnson: Johnson-Brock Public School*
Kearney: Calvin T. Ryan Library-UNK, Kearney Area Children's Museum, Bryant Elementary*, DHHS Youth Rehabilitation and Treatment Center*
Kimball: Kimball Junior-Senior High School*
La Vista: La Vista Public Library
Lewiston: Lewiston Consolidated Schools*
Lexington: Lexington Public Library
Lincoln: Eiseley Branch Library, Lincoln Christian High School*, Lincoln Lutheran Middle-High School*, Nebraska Library Commission, Nebraska State Historical Society, North Star High School*, St. Patrick Elementary School*
Lindsay: Holy Family School*
Louisville: Louisville Public School*
Loup City: Loup City Township Library, Loup City Public School*
Lynch: Lynch Public Library
Lyons: Lyons-Decatur Northeast School*
Macy: Omaha Nation Public School*
Malcolm: Malcolm Public School*
Maxwell: Maxwell Public School*
McCook: McCook Public Library, McCook Public School*
Milligan: Milligan Public Library
Minden: C.L. Jones Middle School*, Minden High School*
Mitchell: Mitchell Public Library
Morrill: Morrill High School*
Nebraska City: Morton James Public Library, Nebraska City Middle School*
Niobrara: Nebraska Indian Community College
Norfolk: Norfolk Junior High School*, Norfolk Senior High School*
North Bend: North Bend Public Library
North Platte: Adams Middle School*, Mid Plains Community College Learning Center, North Platte High School*, Saint Patrick Middle-High School*
O'Neill: O'Neill Junior-Senior High School*
Oakland: Oakland Public Library, Oakland-Craig Elementary School, Oakland-Craig High School
Ogallala: Goodall City Library, Ogallala Public School*
Omaha: Burke High School*, Creighton Prep High School*, Dr. CC and Mable L. Criss Library-UNO, El Museo Latino, Millard Central Middle School*, Millard South High School*, Omaha South High School*, Roncalli Catholic High School*, Russell Middle School*, Westside High School*
Ord: Ord Junior-Senior High School*
Oshkosh: Oshkosh Public Library
Osmond: Osmond Public Library
Overton: Overton Public School*
Papillion: Papillion Lions Club, Sump Memorial Library
Peru: Peru State College Library
Pierce: Lied Pierce Public Library, Pierce Junior-Senior High School*
Plattsmouth: Cass County Historical Society Museum
Pleasanton: Pleasanton High School*
Potter: Potter-Dix School*
Raymond: Raymond Central High School*
Scottsbluff: Bluffs Middle School*, West Nebraska Family Research & Historical Center, Western Library System, Western Nebraska Community College
Scribner: Scribner-Snyder Community School*
Seward: Seward Memorial Library
Shelby: Shelby-Rising City Public School*
Shickley: Shickley Public School*
Sidney: Sidney Public Library
Springfield: Platteview High School*
Springview: Keya Paha County School*
St. Paul: St Paul Library
Stapleton: Stapleton Public School*
Sterling: Sterling Public School*
Sumner: Sumner Eddyville-Miller School*
Syracuse: Syracuse High School*
Trenton: Hitchcock County Junior-Senior High School*
Utica: Centennial Public School*
Valentine: Valentine Elementary School*
Verdigre: Verdigre Public Library
Waco: Nebraska Lutheran High School*
Wahoo: Bishop Neumann Junior-Senior High School*
Wallace: Wallace Public School*
Wausa: Lied Lincoln Township Library
Wayne: Wayne Public Library
Weeping Water: Weeping Water School*
West Point: Guardian Angels Central Catholic High School*, West Point Public School*
Wilcox: Wilcox-Hidreth High School*
Winnebago: Little Priest Tribal College
Winside: Winside Public School*
Wisner: Wisner-Pilger Elementary School*
Wood River: Wood River Rural School*
York: Kilgore Memorial Library, Levitt Library-York College, Nebraska Correctional Center for Women