Prime Time Family Reading Time is returning this semester to seven Omaha locations. Each session of the six-week program is free and open to families and their children, ages 6 to 10, who struggle with reading, or for families with preschool children who need a head start in reading readiness before kindergarten. Programming will begin with a light meal and continue with storytelling and discussion based on award-winning children's books.
Prime Time is a Humanities Nebraska family literacy program that helps strengthen participants' interest and skills in reading and talking about books. A definitive 10-year analysis published by the creators of Prime Time Family Reading Time found that children who attend Prime Time show a 95-100% improvement on achievement tests in elementary school and 81% improvement on high school exit exams.
Four of the sessions will be bilingual, with books read and discussed in both English and Spanish. One will focus on Native Americans using Native American folklore. One will be an English session, and the last will be a preschool session that helps children ages 3 to 5 develop reading readiness before starting school.
The sessions will be held as follows:
• Washington Branch Library, Saturdays at 9 a.m. beginning February 13 (English)
• Cather Branch Library, Tuesdays at 6 p.m. beginning March 22 (Native American)
• Gilder Elementary School, Tuesdays at 5 p.m. beginning March 22 (Bilingual)
• Chandler View Elementary School, Tuesdays at 5:30 beginning March 22 (Billingual)
• Learning Community Center of North Omaha, Mondays at 5:30 p.m. beginning April 4 (Preschool)
• South Omaha Library, Mondays at 6 p.m. beginning April 4 (Bilingual)
• Highland Elementary School, Tuesdays at 4:30 p.m. beginning April 5 (Bilingual)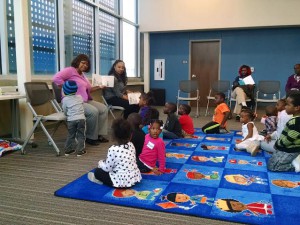 All sessions are offered without cost to families thanks to generous statewide sponsors including the State of Nebraska, Nebraska Cultural Endowment, Carol Gendler, the W.K. Kellogg Foundation, the Peter Kiewit Foundation and the Sherwood Foundation.
Humanities Nebraska has offered Prime Time since 2002, reaching more than 7,000 Nebraskans in one or more of the 170 Prime Time series that have been held throughout the state. Seventeen public libraries, 15 elementary schools, and four community centers have hosted Prime Time in communities where student reading scores do not meet Nebraska state standards.
Teachers who are interested in recommending families for Prime Time should contact one of the sites listed above and ask to speak with the Prime Time coordinator.